07/2019 | International Conference on Religion and Sustainable Development: "Between Cosmology and Community", Berlin
We kindly invite the submission of abstracts for the international conference Between Cosmology and Community: Religion and Sustainable Development. The conference seeks to contribute to the academic and policy discourse on religion and development from an interdisciplinary perspective. It is organized by the Research Programme on Religious Communities and Sustainable Development at the Faculty of Theology of Humboldt University Berlin.
Download Call for Papers here.
09/2018 | Event with Public Panel Discussion "Religion and Sustainable Development – a Debate regarding the Definition of Development", Berlin 
On the occasion of the 70th birthday of Prof. Dr. Wilhelm Gräb, Humboldt University Berlin hosted an event with a public panel discussion on Religion and Sustainable Development – a Debate regarding the Definition of Development.
Read the full report here (in German).
06/2018 | Research Workshop "Religious Communities and Sustainable Development", Berlin
06/2018 | Lecture Series "African Independent and Pentecostal Approaches to Theology and Development", Berlin
02/2018 | Research Workshop "African Initiated Churches and Sustainable Development", Pretoria, Südafrika
02/2018 | Seminar " Methods and Theories of Practical Theology - Applications to African Contexts and Developmental Issues", Pretoria, Südafrika
09/2017 | Research Workshop "African Initiated Churches and Sustainable Development", Kasoa, Ghana
A research w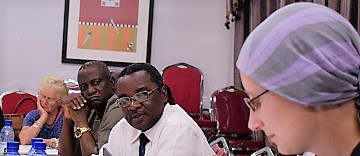 orkshop at the Pentecost Convention Centre marked the beginning of the West Africa regional study of the project "Potentials of Cooperation with African Initiated Churches for Sustainable Development." We were able to convene 15 excellent researchers from Ghana, Nigeria and Burkina Faso. As experts in the field, they contributed valuable insights regarding African Initiated Churches (AICs) and sustainable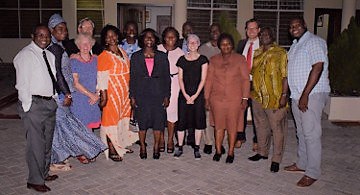 development in West Africa. Not only did their knowledge and experience allow the Humboldt University research team to contextualize their work more profoundly. It also enriched their research methodologies and instruments. In the following, a selection of the papers presented at the one-day workshop will be given a résumé.
Babatunde Adewale (Department of History and Strategic Studies, University of Lagos, Nigeria): African Pentecostalism and Sustainable Development. A Study of the Redeemed Christian Church of God
Referring to his studies about the Redeemed Christian Church of God, Babatunde Adewale showed the important role this church plays as an agent for development activities. However, he also raised critical questions about African Pentecostalism as a new brand of Christianity. African Pentecostal Churches, he said, emerged from the third decade of the 20th century. Baptism of the Holy Spirit and personal salvation are key elements of this brand of Christianity. Like the Mission Churches, they are involved in additional activities such as education, healthcare, empowerment and rehabilitation programmes. Development is primarily associated with the economy, but in order to achieve sustainability the process has to address not only economics, but also the social, political and religious sector. Sustainable development must meet the needs of the present generation without compromising the needs of future generations, Adewale highlighted in his paper. The focus needs to be laying on peace and freedom as much as on the equitable distribution of resources and the human development capacity.
All these challenges are taken up by the Redeemed Christian Church of God and can be divided into five areas of activities:
1. Economic Empowerment:
Christ Redeemers Ministry (established in 1977 for small scale business support and employment opportunities)
Jubilee Development Foundation
Redeemers Business Academy
Jubilee Cooperative Society (soft loans for members)

2. Rehabilitation Programmes:
Christ Against Drug Abuse Ministry (established in 1992 for the rehabilitation of drug addicts)
Redeemed AIDS Programme Action Committee (established in 1998 for the management and control of HIV/AIDS pandemic)
Holistic Ministry (established in 2002 for youth development and education)
Habilitation of Hope Care Ministry (established in 2006 for rehabilitation of street boys/girls known as area boys/girls in Nigeria).

3. Educational Institutions:
Crèches, nurseries, primary schools, secondary schools, Redeemer's University
 
4. Medical Facilities:
Clinics, hospitals and maternity homes across Nigeria
 
5. Corporate Social Responsibilities:
Indoor (Church based)

Digging of deep wells
Sinking of boreholes
Skills acquisition trainings

Outdoor (community based)

Prison and hospital outreach
Road repairs and construction of public toilets
Gifts to orphanages and provision of sporting facilities
Yetunde Abolaji Olaomo (Department of Religious Studies, University of Ibadan, Nigeria): Collaboration of Development Agencies with the Pentecostal Fellowship of Nigeria (PFN) to Develop Nigeria through Socio-economic Projects
Yetunde Olaomo started off by explaining the religious situation in Nigeria, Africa's most populous country with a population of over 170 million. Within its land mass of 923,768 km², Nigeria has abundant natural resources. Even though the country is one of the largest exporters of crude oil in the world, over 62% of the population still live in extreme poverty.
Ethnic and religious rivalry, corruption and political violence contribute to socio-economic problems as well as weak institutions and central government deficiency in providing collective goods and infrastructure. In addition, overdependence on crude oil exportation and the mismanagement of revenues weakens the country.
The Pentecostal Fellowship of Nigeria (PFN) has implemented several developmental projects to ameliorate the suffering and improve the standard of living of numerous Nigerians through different facilities. PFN collaborates with development agencies, its member churches and individual members. Olaomo's paper discussed some of the projects implemented and outlined prospects and challenges concerning the partnership between PFN and development agencies.
In her conclusion, she outlined possibilities of alliances between development agencies and the Pentecostal Fellowship of Nigeria. In her view, such partnerships will contribute to achieving common grounds of values for socio-political engagements, human rights, human welfare and gender justice. Olaomo's summary: The core values of the Pentecostals and development agencies are compatible and to a large extent congruent.
Thomas Oduro (Good News Theological Seminary, Ghana): Healing a Soured Relationship Between AICs and Other Christian Communities in Ghana (1971-2016). The Role of Good News Theological Seminary
Thomas Oduro focused on the role of Good News Theological Seminary in breaching the divide between Mission Churches and AICs in Ghanaian society. In particular, he mentioned five aspects:
1. Mutual respect and recognition. The greatest result of the role of Good News Theological Seminary, he said, has been a degree of respect and mutual recognition.
2. AICs have benefitted from the immense theological and ministerial knowledge and expertise of the Mission Churches and other Christian communities. As a result, some of the AIC alumni of the seminary, who were trained by non-AIC scholars, have updated their knowledge to post-graduate levels.
3. Mission Churches have incorporated elements in their workshop that were introduced to African Christianity by AICs such as clapping hands, dancing, beating drums, congregational prayers, healing and lively worship.
4. As the number of trained AIC pastors and scholars increases, leaders and members of Mission Churches and other Christian communities recognize them more and more as equal partners.
5. Most non-AIC Christians have had the privilege of knowing and understanding the ministries and doctrines of the AICs which lead to an active dialogue about the need for contextualization rather than reformation.
Anthony Kehinde Adebayo (The Church of the Lord [Prayer Fellowship], Nigeria): Who is and Who is not. A Case Study of Nigerian Proliferated Churches
Anthony Kehinde Adebayo started with a brief history of the AICs before he developed a constructive and critical view of their role in the broader society of Nigeria.
AICs, he said, have taken root in Africa. By the middle of the 20th century, the AICs had established themselves so firmly that they were not just protestant movements, but had started to become genuine expressions of the Christian faith from an African perspective. They were against colonialism and against missionary neglect of the social and psychological needs of the Africans. The religious protest took different dimensions, but all were aimed at liberating the Africans from the evil of the white regime, colonialism, socio-economic and demonic forces militating against African identity and wellbeing.
This new wave of Christianity has offered people in desperate situations a socio-psychological means of survival as they resort to these churches, where they can find financial breakthrough, healing, protection and so on. Now, that they've come a long way in proving to the westerners that they are unique in their own ways and that they can promote Christianity in an African way, there is also the need for them to lead an authentic Christian life and not give room for doubts about their ability to maintain the Christian tradition in the African way. Just as the African Christian Church fathers laboured to make Christianity genuine and African, they are also meant to do away with grudges, materialism, indiscipline, impatience and hatred that inspires secession. Prosperity sermons should be complemented with sermons of holy Christian living, honesty, humility and Iove for one another. The economic situation in the country has not grown better, in fact it worsens by the day, therefore the presence and relevance of these churches are of necessity in providing succor to desperate individuals and groups already affected by it.
Tersur Aben (Theological College of Northern Nigeria): Independent Christian Churches' Development Work in Muslim Communities
Tersur Aben referred to his studies about the social role of AICs in the north-eastern part of Nigeria. He pointed out that these churches did a lot for peacemaking in the Muslim-Christian conflict.
It is, he explained, notable that some AICs have resumed development work in Muslim communities in Northern Nigeria. In many cities, AICs are opening schools for Muslim children to combat Boko Haram's attack on Western education. Some AICs are sinking boreholes in Muslim communities in Northern Nigeria to supply water. Other AICs are planting trees to conquer deforestation and the encroachment of the Sahara Desert in Northern Nigeria.
Tasur Aben's paper examined the engagement of AICs in development work among Muslim communities in Northern Nigeria. First, it showed the engagement of AICs in development work in Northern Nigeria as a theological shift in AICs from a limited vision of God's Kingdom and of self-centred prosperity theology, to an embrace of northern Muslims in their common shared human values of wellbeing. Second, he pointed out, that the reception of the AIC development workers in Northern Nigeria serves (to some extent) to ameliorate relationships between Muslims and Christians in the region. Although political tension still exists among these religious groups, one hopes the development activities of the AICs will heal religious divides. A third outcome, he mentioned, is that development in Northern Nigeria is a means to curb economic migration by Muslim youth in that region to other parts of the world in the 21st century.
Mobolaji Ajibade (Adeyemi University of Education, Nigeria): The Role of Pentecostalism in Social Networks for Sustainable Development in Southwestern Nigeria
Mobolaji Ajibade's paper explained the reasons why AICs have grown in Nigeria during the last decades. Pentecostalism is on a rise in Nigeria, she said, because of its cultural fit into certain indigenous worldviews and its response to the questions that are raised within these worldviews. Pentecostalism becomes a solace from the harsh reality of the collapse of the economy, prowling poverty, lapses of the state and failed leadership. Various social networks established by Pentecostal churches among Southwestern Nigeria enhance meeting various needs of their members.
Ini Dorcas Dah (Akrofi-Christaller Institute of Theology, Culture and Mission, Ghana): Centre International d'Evangelisation/Mission Interieure African. Its Ministry and Involvement in Sustainable Development in Burkina Faso
Ini Dorcas Dah's paper referred to the history of the Centre International d'Evangélisation in Burkina Faso and explained its role as an agent of sustainable development in the broader context of the society in Burkina Faso.
The Centre International d'Evangélisation, she said, is an evangelical and international movement based in Ouagadougou, the capital of Burkina Faso. It was founded in 1977 by Mamadou Karambiri and his wife Marie Sophie Karambiri. Mamadou Karambiri was born in a Muslim family and learned about Christianity when he was 10 years old. In 1973 he went to study economics in France and converted to the Christian faith in the Assemblies of God Church. He went back to Burkina Faso in 1977 and started his ministry while working with the Burkina Faso administration. Since its creation, the Centre International d'Evangélisation has not only opened many branches in the country, but also in other African countries and abroad, for example in France and the United States of America.
Centre International d'Evangélisation, Dah noted, is involved in sustainable development in Burkina Faso by undertaking both spiritual and social activities for the wellbeing of people. In conclusion, she stated that the Centre International d'Evangélisation is an African Initiated Church in Burkina Faso. It is the biggest AIC in the country founded by a native Burkinabe and his late wife. The Centre International d'Evangélisation contributes to the development of Burkina Faso and other African countries through its various ministry departments. Doing sustainable development is not only an action of meeting the temporary need of people, but it is developing mechanisms that can help them face both their current and future circumstances. In other words, this approach is helping people who are in need in a manner that they are not constantly depending on temporary help and not falling back into poverty as soon as they run out of their current aid. The goal is to empower people to effectively face their life circumstances in order to change them for the better.
06/2017 | Opening Workshop of the Research Project "Potentials of Cooperation with African Initiated Churches for Sustainable Development", Berlin
Presentations:
Prof. Dr. Olufunke Adeboye: The social work of AICs in West Africa
Prof. Dr. Kwabena Asamoah-Gyadu: The understanding of development in West African AICs
Prof. Dr. Volker Küster: AICs - what's in a name?
Dr. Dena Freeman: In the perspective of AICs: What needs to be done to overcome poverty?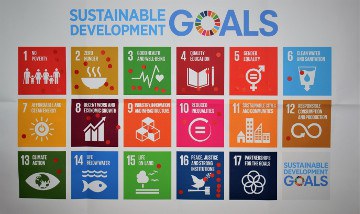 Prof. Dr. Werner Kahl: What impact does the relation between biblical authority, African religious tradition and human rights within AICs have with regard to concrete questions like gender equality, LGBTI-rights and discrimination of people with HIV/AIDS and/or disabilities?
Simbarashe Gukurume: AICs as mediators of students' experiences in university spaces 
Bjørn Hallstein Holte: Religious organizations' role for marginalized youth in South Africa
Dr. Emmanuel Anim: An evaluation of African Pentecostal Churches as agents of sustainable development: The case of Ghana
Xolile Simon: AICs as networks of economic and social support
Dr. Babatunde Adedibu: African migrant churches as development actors
Dr. Nadine Bowers Du Toit: Contested development(s)?: The possible contribution of the African Initiated Churches in decolonizing development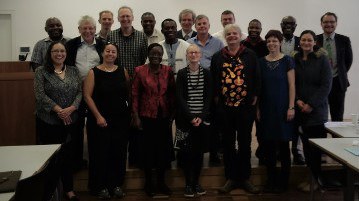 Participants:
Prof. Dr. Olufunke Adeboye | University of Lagos, Nigeria
Dr. Babatunde Adedibu | Redeemed Christian Bible College, Nigeria
Phillip John Angelina | Humboldt University Berlin, Germany
Dr. Emmanuel Anim | Pentecost Theological Seminary, Ghana
Prof. Dr. Kwabena Asamoah-Gyadu | Trinity Theological Seminary, Ghana
Dr. Nadine Bowers Du Toit | Stellenbosch University, South Africa
Prof. Dr. Ruth Conrad | Humboldt University Berlin, Germany
Sarah Eßel | Humboldt University Berlin, Germany
Dr. Dena Freeman | London School of Economics and Political Science
Marie-Luise Frost | Humboldt University Berlin, Germany
Prof. Dr. Wilhelm Gräb | Humboldt University Berlin, Germany
Christine Gühne | Bread for the World, Germany
Simbarashe Gukurume | University of Cape Town
Bjørn Hallstein Holte | VID Oslo, Norway
Stefan Hunglinger | Humboldt UniversityBerlin, Germany
Prof. Dr. Werner Kahl | Missionsakademie, Germany
Prof. Dr. Volker Küster| Universität Mainz, Germany
Elvis Mofokeng | University of Pretoria, South Africa
Philipp Öhlmann | Humboldt University Berlin, Germany
Prof. Dr. Ignatius Swart | University of the Western Cape, South Africa
Prof. Dr. Cas Wepener | University of Pretoria, South Africa
Prof. Dr. Dietrich Werner | Bread for the World, Germany
05/2017 | Public Panel Discussion "Sustainable Development and Churches in South Africa", Berlin
05/2017 | Lecture Series "African Independent and Pentecostal Approaches to Theology and Development", Berlin